Sign Up to Receive 30% Off on Your First Order
FREE STANDARD SHIPPING WITHIN THE US
Amazon Traditional Beaded Necklace
ATN1045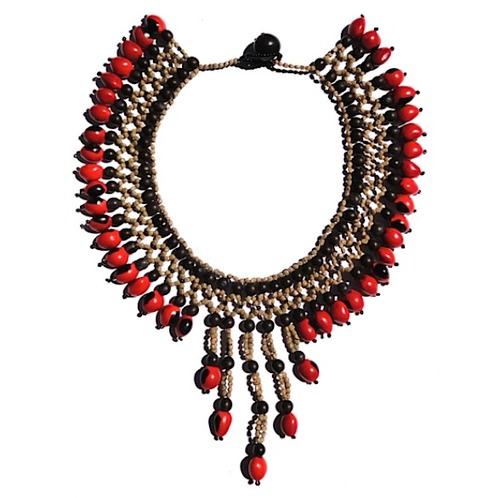 NECKLACES
THE AMAZON TRADITIONAL BEADED NECKLACE Wear this gorgeous eco jewelry piece to add elegance to any top, dress or outfit. This organic beaded necklace is a traditional Amazon design made by various indigenous rainforest communities. It is handmade with kumpia, tuju and/or wayampai seeds, with accent color at the bottom edge of yanpak, yusajiak or huayruro* seeds. This particular selection is handmade by the Awajún artisans in the Peruvian Amazon.
The huayruro* seed is a good luck seed. The red and black colors symbolize good fortune and abundance, as well as balance. The seeds are said to protect from negativity and bring happiness. In the Peruvian Amazon, newlyweds and newborns often receive huayruro seeds as gifts for a happy and prosperous life.

NOTE: Huayruro seeds (the red and black seeds in some of the jewelry) are known to be poisonous if ingested. We recommend that any jewelry with huayruro seeds be kept away from children. More on FAQ's section.
If you like this, click on "Add to Bag" button!
• Kumpia, Tuju, Wayampai with Yanpak, Yusajiak or Huayruro Seeds
• Fishing thread for strength
• Back closure with beaded loop in seeds

• Handmade by Awajún Artisans
• Imported: Peruvian Amazon

• Organic
• Vegan
• Metal Free
• Sustainable jewelry
• Eco fashion
See Care Instructions to
ensure their luster shines through and wearable art pieces are cared for properly.


The talented artisans who create these exquisite pieces of wearable art have a strong spiritual connection with mother nature, they live in remote areas of the rainforest and it brings them joy to share their artistry with the world, while making an honorable living from their traditional craft. You will feel the powerful energy of the rainforest in every piece you wear.
Adornment connects us to something higher. It honors the beauty of Earth and power of Nature." Designer Violeta Villacorta

ORG by vio® works in partnership with indigenous Amazon artisans to promote their culture, artistry and develop collections of handmade jewelry, accessories and eco fashion using plant materials, as a source for a sustainable economy for the stewards of the forests.

Your purchase of our exquisite Amazon beaded jewelry and accessories supports our work with indigenous Amazon artisans and communities, aimed at cultivating their artistry while generating a sustainable economy, so they remain in their land as protectors of the rainforest: the lungs of our planet and global climate regulator… AND it is a beautiful addition to your wardrobe straight from the Amazon!

All our goods are fairly traded and profits are shared with artisans and producing communities through tools, trainings and projects that address their needs to ensure their success.
More videos in News menu.
WE SHIP WORLDWIDE




QUESTIONS? CALL 951.468.0168
BOHO CHIC ORG by vio brings you bohemian jewelry for the gypsetter in you. Boho jewelry, boho chic fashion and eco-friendly jewelry handmade by artisans from the Amazon Rainforest for planet lovers who live, love, play and work around the world.
FAIR TRADE & MORE All of our jewelry, accessories and wearable art pieces are fairly traded. We also share profits with artisans through projects that address their needs to ensure their success. We're saving the Amazon one seed at a time.
WE PARTNER with indigenous Amazon communities, the stewards of the forests, who come to us to promote their arts and generate a sustainable economy. Amazon Boho Chic Eco Jewelry for the Love of People, Planet & Culture. Thank you for shopping at ORG by vio.
COPYRIGHT NOTICE
All designs are the property of ORG by vio® and the artisans that create them. Copyright infringement will trigger action to the full extent of the law to protect the work of the artisans ORG by vio® works with.